Yahoo Search Marketing
Increase Targeted Traffic to your web site with Yahoo Sponsored Search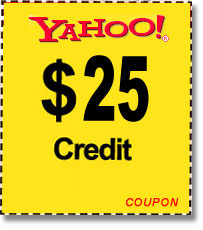 Yahoo Search Marketing or Yahoo Sponsored Search is search engine marketing that allows you to build ads that appear in search results on the web's most popular destination and other web sites in the Yahoo! distribution network. With Yahoo Search Marketing, you will drive targeted web traffic who are already searching for what you sell.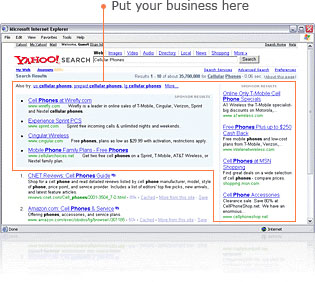 Advantages of Yahoo Search Marketing
Manage your yahoo sponsored search engine marketing spend with flexible budgeting options and the freedom to experiment with different approaches.
Promote your business to a local audience and/or customers across the entire market
Take advantage of tools and features that make it easy to manage your search engine marketing campaigns
Get your campaign online with just five easy steps
and so much more..
Why use Yahoo Sponsored Search?
Yahoo Sponsored Search Marketing is a great way for you to connect with the ideal customers-the ones already interested in what your business offers. With text ads that appear in search results, you promote your business to people who are actively searching online for your products or services. And you pay only when your ad is clicked.

Unlike other marketing options, a Yahoo Search Marketing account offers measurable results and lets you test different ads. Yahoo Sponsored Search can achieve multiple objectives, including acquiring new customers, increasing brand awareness or influencing purchasing decisions.

Reach the Yahoo! audience
Yahoo! is the #1 online destination in the U.S. As a result, Yahoo Search Marketing (Yahoo Sponsored Search) provides you with a unique Internet marketing opportunity: to promote your business on the web's most popular destination and reach millions of active users.